What is EQU?
EQU stands for Eletronic Questionnaire and is a tool with which any questionnaires can be recorded and displayed in a structured way in the FHIR format. The respondent only needs a mobile device such as a tablet – EQU runs via the browser on it.
Deposited questionnaires can be easily assigned via EQU-Manager. The EQU-Manager is the administration and management platform for EQU. Survey results can be retrieved in real time in graphical and tabular form. In addition, paper questionnaires that have already been answered can be added.
EQU supports all common question types to allow an individual design of the questionnaires. There is no restriction regarding the number of stored questionnaires.
Technology
EQU is a web-based software that can be accessed completely in the browser. All communication between client and server is TLS encrypted. OpenID Connect is used for authentication.
The structured collection and further processing of clinical data is carried out in compliance with the specified data protection framework. EQU uses the HL7 FHIR data format for data transmission and can thus be easily integrated into an existing FHIR infrastructure.

Questionnaires via tablet
Answering questionnaires digitally via tablet eliminates the need for manual transmission of paper questionnaires.

Connectivity
EQU is accessed via the browser and is available even if network access is interrupted.
Planning and evaluation
Using EQU Manager, questionnaires can be assigned to patients and answered questionnaires can be evaluated and exported over time.

Questionnaires
EQU supports all common question types and can display individual and standardized questionnaires.

Privacy
EQU uses established and secure web standards for encrypted data transmission and user authentication.

Interoperability
EQU uses the HL7 FHIR standard. This provides an API including documentation for structured data retrieval.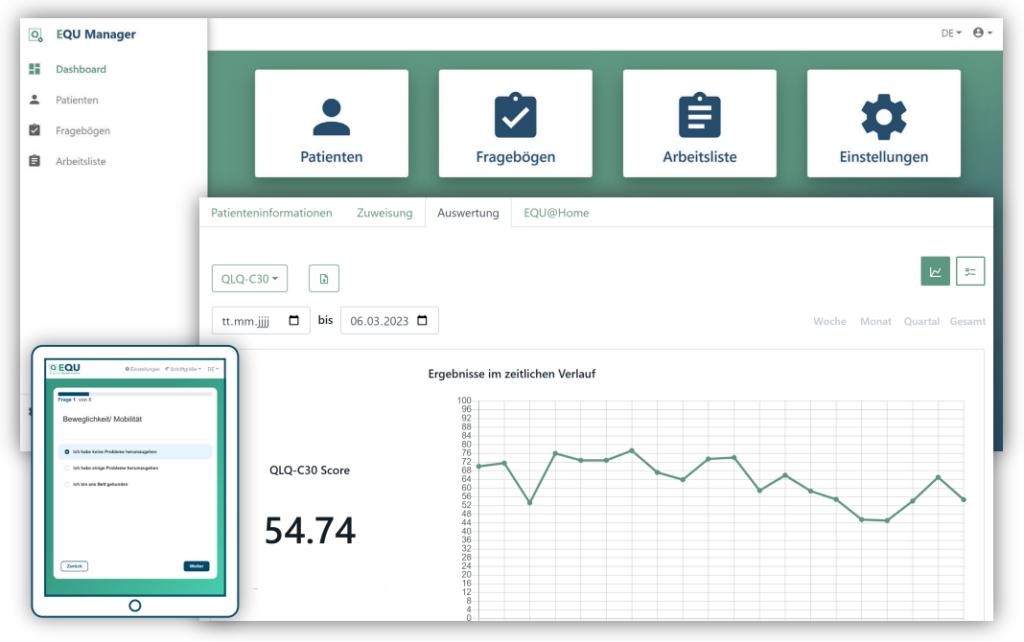 Procedure
1. Assignment
Different questionnaires can be assigned for completion at different times during the course of therapy.
2. Response
The questionnaires are answered directly on the tablet. The data is then transferred to the EQU Manager.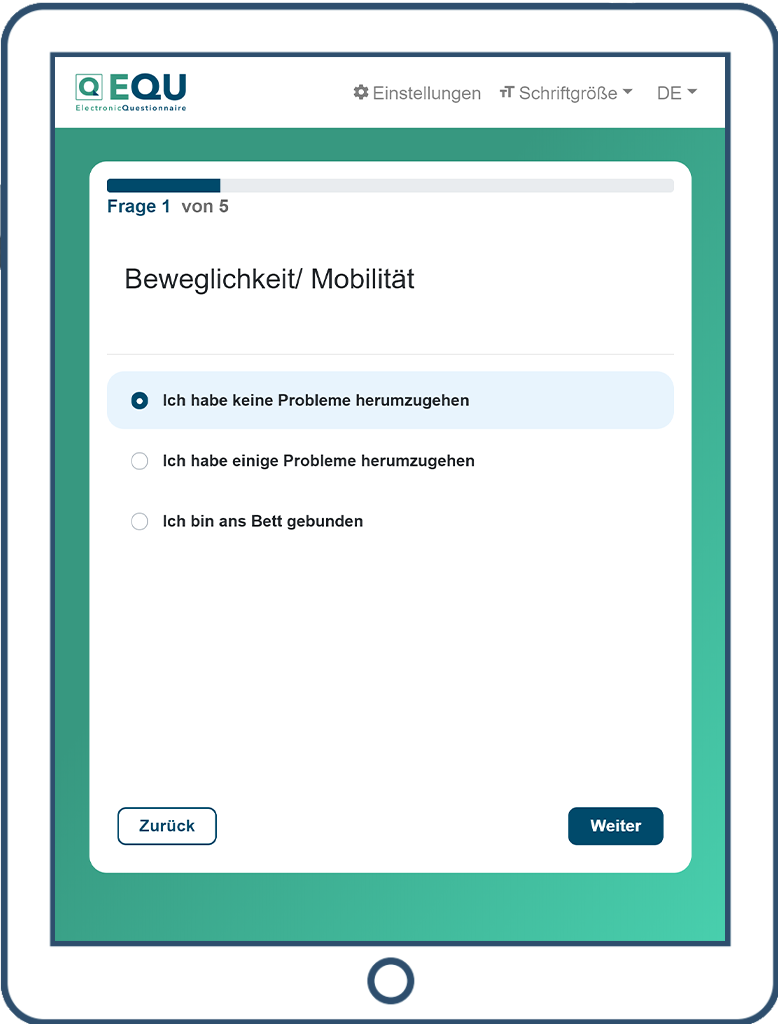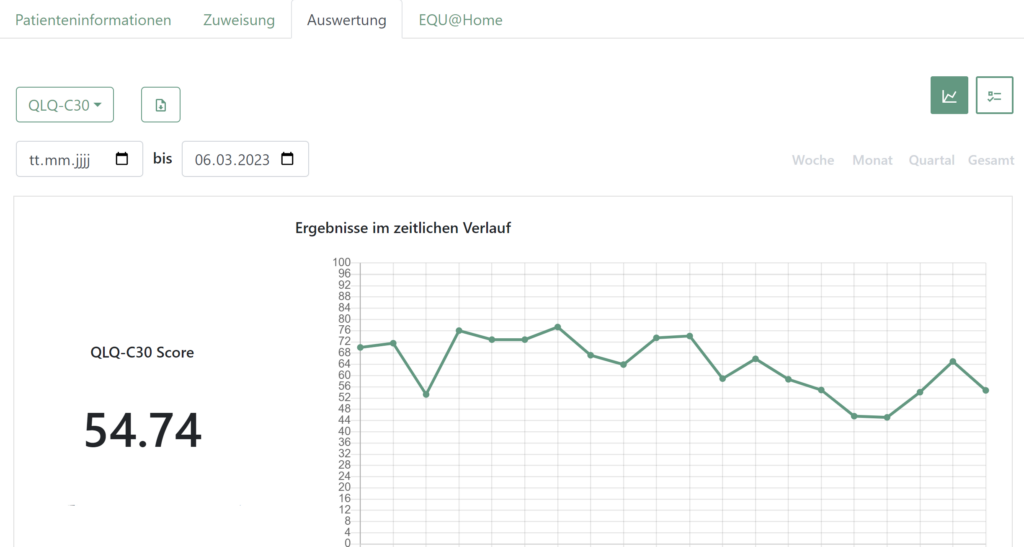 3. Presentation
Questionnaires that have already been answered are displayed in the EQU Manager in the course of time in clear tiles as a dot diagram.
4. Evaluation
Previous responses can be exported as a CSV file for further evaluation and processing.
Features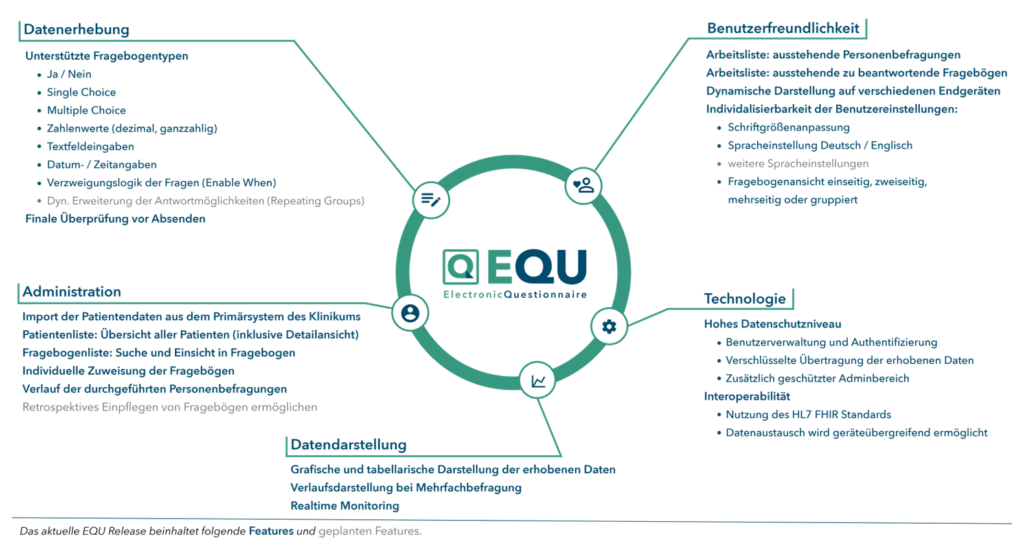 Support
MOLIT Service guarantees the accessibility of the systems, carries out security updates if required and supports you in case of questions and technical problems via a ticket system.
Information material