What is VITU?
VITU stands for Virtual Tumor Board and is a process-oriented information and communication platform that depicts the processes of a molecular tumor board completely virtually using the HL7 FHIR standard.
VITU facilitates the preparation of relevant cases with the inclusion of patient data, networks experts via video conferencing regardless of location, and structures processes and documentation. Therapy recommendations are supported by appropriate research results from international knowledge databases and available studies are displayed.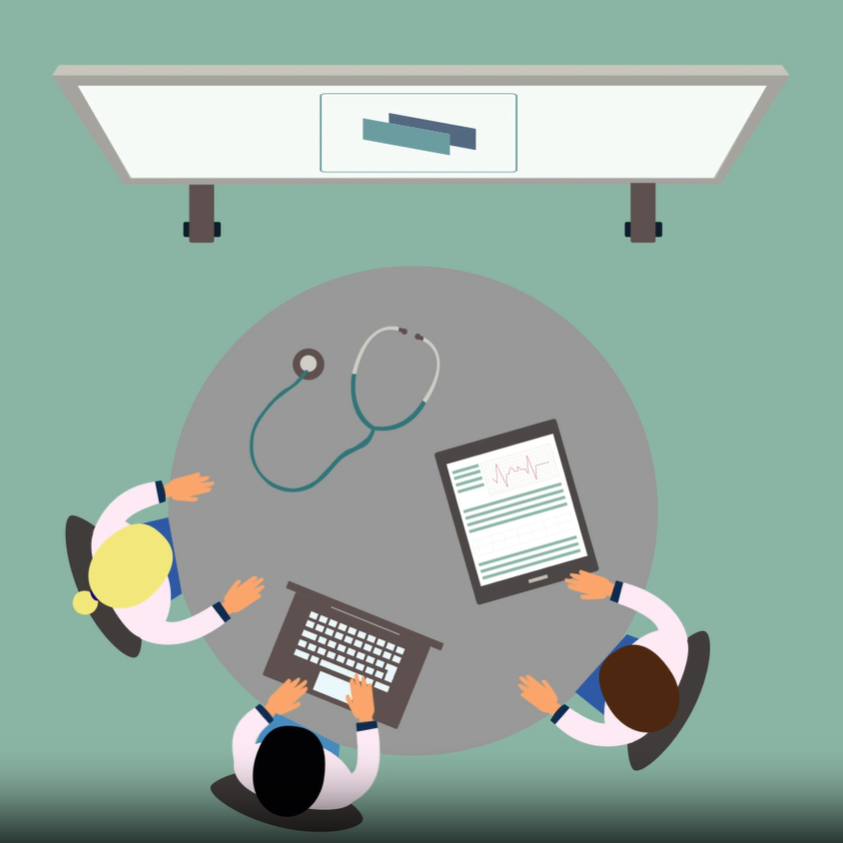 Technology
VITU is a web-based software that can be accessed completely in the browser. All communication between client and server is TLS encrypted, the video conference is technically based on WebRTC. OpenID Connect is used for authentication.
The structured recording and further processing of clinical data is carried out in compliance with the specified data protection framework. VITU uses the HL7 FHIR data format for data management and can thus be easily integrated into an existing FHIR infrastructure. The integration of genetic findings is structured and based on the HL7 Clinical Genomics Implementation Guide.

Process support
VITU provides end-to-end support from planning, through execution, to documentation.

Link to knowledge databases
Interfaces for searching suitable studies and queries to knowledge databases enable case preparation and follow-up within the application.

Transmission of findings
Molecular genetic findings data from partner laboratories can be imported into VITU electronically and in structured form.

Export
The recommendation protocol and structured case data can be exported directly from VITU.

Privacy
VITU uses established and secure web standards for encrypted data transmission, user authentication and video conferencing.

Interoperability
VITU uses the HL7 FHIR standard. This means that an API including documentation is available for structured data retrieval.
Main features
Worklist
Clear presentation of current cases
Sorting by processing status
Detailed view of case and findings data for case preparation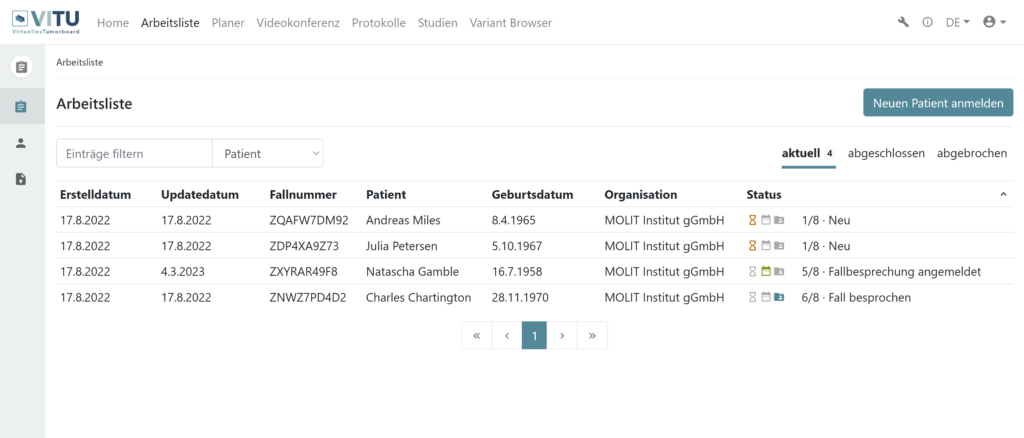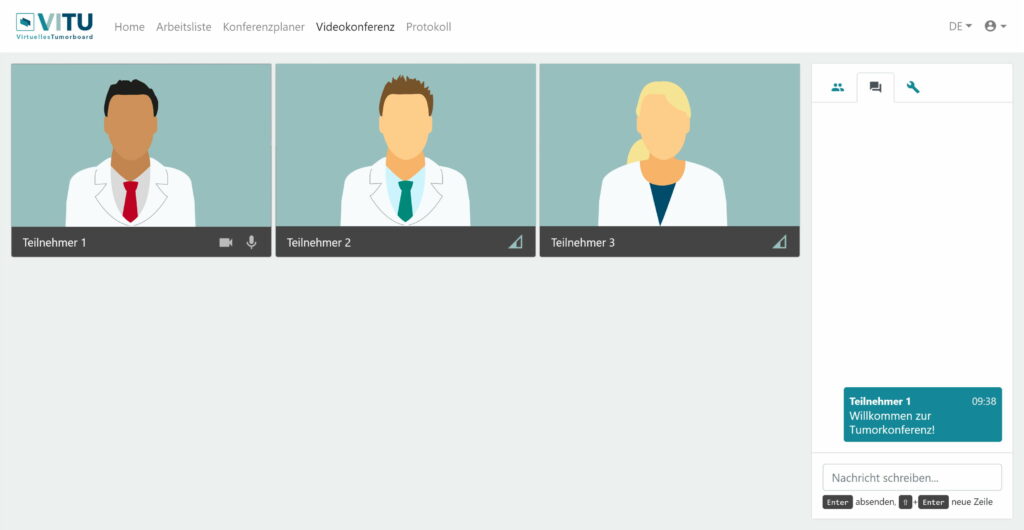 Videoconference
VITU allows location-independent conference participation
Switch between conference and presentation view
Presentation of the deposited data of the respective cases
Only browser required
Conference planner
Scheduling of tumor conferences and cases
Selecting case-relevant data and providing the information to participating individuals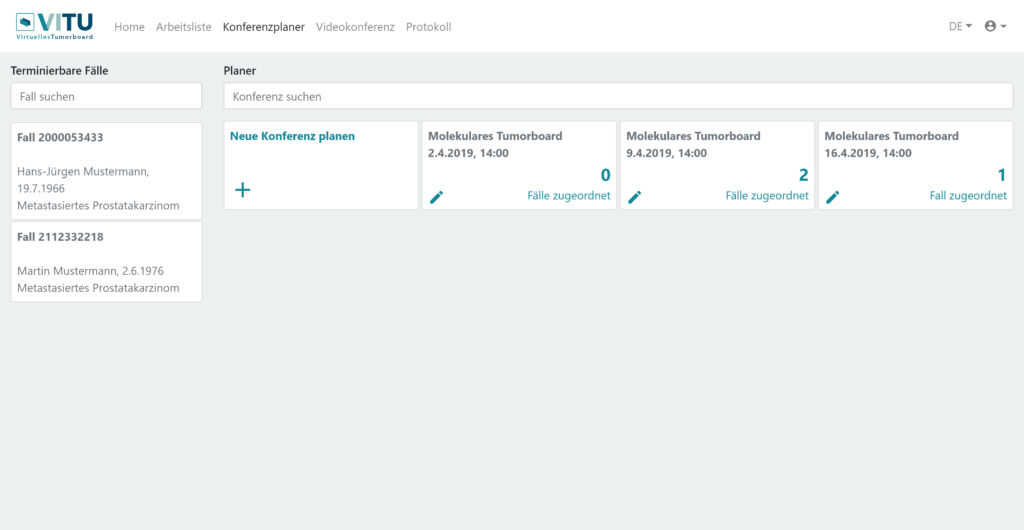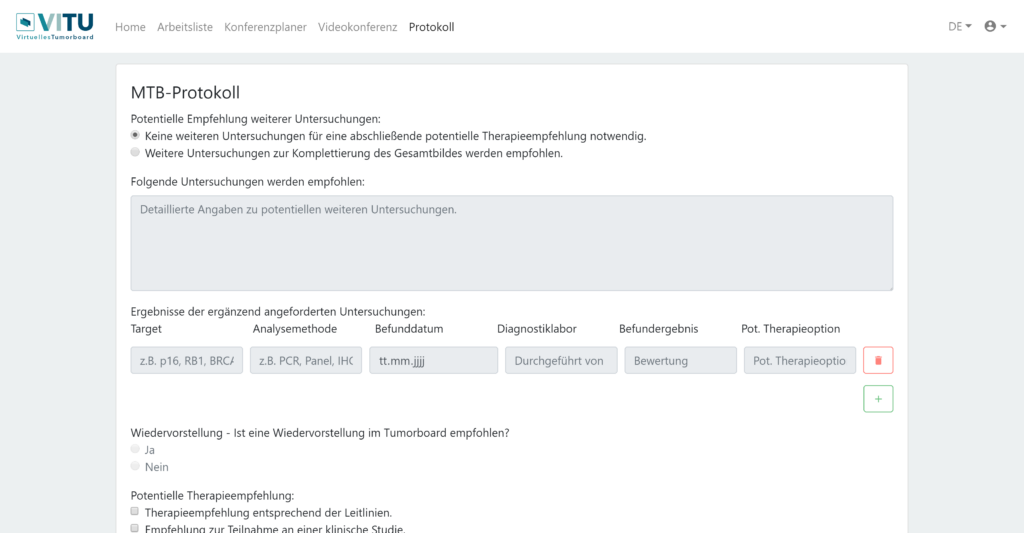 Recommendation protocol
Automated transfer of the structured findings data, attendance list at the tumor conference and therapy recommendation into the recommendation protocol
VITU Options
You have the option to rent VITU as an On Premises version (Basic) or as a Cloud version (Dock / Connect). Various extensions can be added to all options.
With the Basic version VITU is installed on your own IT structures, with the Cloud versions you get web-based access to an instance of VITU installed on servers of MOLIT Service GmbH. The dock version is necessary here to be able to plan and conduct video conferences. Several Connect instances can be connected to a Dock instance in order to be able to import further case data (for example from partner clinics).
For more information visit the VITU Docs website.
Support
MOLIT Service guarantees the accessibility of the systems, performs security updates if required and supports you with questions and technical problems via a ticket system.
Are you interested in trying VITU?
Please contact us and we will provide you with an individual temporary access to a test instance. You can also use this access in parallel with several people, so that you can explore VITU together. The instance will be reset regularly.
In the trial version, you can use the following functions, among others:
Enter sample cases into the system as examples and view existing sample cases and leave comments
Register a new patient in the worklist and add and edit case information
Generate a protocol in the case overview under Therapy recommendation
Create conference rooms in the scheduler and assign cases (if they have the status "Findings available") to a conference
See and enter your created virtual conferences in the video conference overview
We will be happy to answer any questions you may have in this regard.
Information material